NOROO Paint & Coatings
will make the world more beautiful with the best service ever.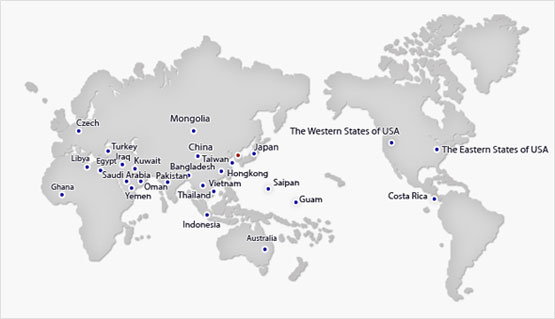 For years, the brand name, NOROO, has led the way in paint production in Korea. Recently, however, NOROO Paint & Coatings Co., Ltd became independent in 2006 as a major subsidiary of DPI Holdings Co. Ltd. With DPI Holdings taking over the responsibility of managing corporate investments, NOROO Paint & Coating is now free to step-up its business structure and production to higher levels, offering more highly-developed products.
NOROO WEBSITE
NOROO Paint & Coatings produces approximately 30,000 various products ranging
from architectural coatings, industrial coatings, heavy-duty protecting coatings, PCMs, automotive refinishes and resins for car manufacturing.

The architectural coatings are produced in a range of colors and functions that fit modern construction methods and trends. The coatings with heavy anti-corrosion properties improve the durability of bridges, plants, and major structures. Industrial paints used for construction materials, steel, electronics and electrical parts, and car and ship repairing are among our most advanced.

NOROO's brands of auto-refinishes consist of HIQ- binder system, Bodyian -intermix system and AUTUSS- premium refinishes for Japanese cars. The product line-up is clear, primer, primer surfacer, and color coats. These products have been supplied to the local and global markets since NOROO started auto-refinishes business in 1985.

We apply the most advanced digital technology to create all NOROO paint & coatings, and the colors are stored in a data base. Furthermore, digital technology enables us to provide customers with highly-functional and environmentally-friendly paint and coatings products. In fact, we have improved the quality of entire manufacturing process from testing, to input and mixing and finally, to processing and packaging. A continued effort will be made to become a major Asian paint & coatings producer, leading the world paint industry through the development of new future world markets.
NOROO Growth History
2008.05

Launched a joint venture with Futian Co., Ltd (China) / Strategic partnership with ISAMU Co., Ltd (Japan)

2008.04

Established new factory facilities in Poseung

2007.11

Certified as an excellent company for national quality competition 5 years in a row

2006.06

Industrial division under the holding company system / Holding company (DPI Holdings), business company (NOROO Paint & Coatings)

2005.11

Awarded Presidential Prize, Technician Prize at the 35th Precision Technology Promotion Contest

2005.09

Awarded Industrial Honored Silver Medal

2004.07

Selected as one of the top 50 enterprises for national quality competition 3 years in a row

2003.07

Acquired ISO/TS 16949 Certification

2001.10

Selected as an excellent company with new labor and management cultures

2000.11

Changed the company name to DPI Co., Ltd

1997.09

Awarded with Presidential Prize on Statistics Day

1995.04

Achieved ISO 9001 Certification

1968.07

Achieved the KS mark approval for the first time in the painting industry

1957.08

Registered the trademark as NOROO

1957.08

Started DAIHAN Offset Ink business/ Supplied printing ink to Chosun Book Co., Ltd. / Published Korea paper money printed with Daehan offset ink
A Global automotive refinishes system with High Quality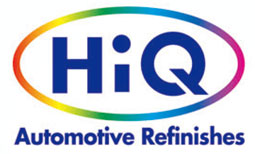 HIQ WEBSITE
HiQ, the global automotive refinishes system has been initiated by NOROO which is a global paint-manufacturer enjoying high reputation over the world. With dedicated efforts to enhance the quality of the products and meet the potential needs of customers, NOROO succeeded in banking global color matches and has been providing the customers with a total solution as a non-stop platform in operating automotive refinishes system offering the users an easy solution for matching colors and processing the necessary coats.
HiQ Color Bank System
The superior HiQ automotive refinishes system offers you a full range of easy-to-use products and system to meet the specific needs of body shops. From passenger cars to commercial and special purpose vehicles finishing, HiQ system provides you with excellent color stability, premium coverage in easily handled metallic, solid and pearl.
Composition of Color Bank system
HI-COLOR

96 Kinds of Universal Colorants

HiQ-BASE

4 Kinds of 1K Binder

UNITAN

2 Kinds of 2K Acrylic Urethane for single stage
Item
Description
Base color and toner
- Made up of 6 base color, 61 HI-Colors (Colorants), 35 HI-Color Micas.
Color-Q System
Auto Searching & Correction System
- Color-Q System is an advanced spectrophotometer designed to help you achieve the most accurate color match faster and easier than ever before.
Color Online
No matter where you are or how you access the internet, HiQ offers instant access to automotive colors.
- http://www.autorefinishes.com
- http://m.autorefinishes.com
Tint Guide Poster,
Color Chip Book

Tint Guide

- HiQ tint guide posters are valuable tools for identifying the color properties of specific toners when a color requires tinting. Technicians find that these tools make it easy to determine how to use a specific toner will move a color.

Color Chip Books

- From chip books covering the latest model year to variant chip systems and tinting guides for difficult-to-match colors, HiQ has the tools you need to assure a color match repair.

Mixing Machine
Always maintains equivalent concentrations of Base color and Hi-Color.
- Uses a conveyer belt that is relatively quiet and durable.
- Removable rotors and mixing lids provide optimum mixing ability.
Digital Mixing Scale
Precise colors are guaranteed by using accurate digital scale.
- Electronic scale designed for autorefinish paint (Measurement ranges between 0.01-7,000g)
Clear Coats
TC-5300

HC-5310

TC-2200

Master Clear Plus

TC-410

Magic Clear

Mira Clear

High Velocity Clear

MC-2500 Matt Clear
Color Bank System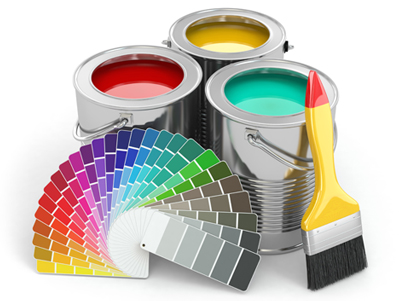 The superior HiQ automotive refinishes system offers you a full range of easy-to-use products and system to meet the specific needs of body shops.

From passenger cars to commercial and special purpose vehicles finishing, HiQ system provides you with excellent color stability, premium coverage in easily handled metallic, solid and pearl.

Being founded on a universal colorant system, both basecoat and 2K urethane topcoat are available in HiQ automotive refinishes system by using two types of binders.

HiQ bases are solvent-borne concentrates. Due to this fact, HiQ system requires smaller can size and provides longer shelf life.
Equipment
Mixing
Machine
1. Work for 5 to 10 minutes in the morning and afternoon, it will definitely mix
2. Low noise and long usage
3. Excellent swirling effect with sweeper function
4. Easy to attach workbench and excellent design
5. Motor power supply uses 120-220V single phase
Control
Box
1. Automatic time adjustment function (Press keyboard 'I' to stop automatically after 15 minutes)
2. Manual control (Press keyboard 'O' to control manually in 15 minutes)
Digital
Mixing
Scale
1. High resistant on a shock (Sensor stands against about 50 kg of a shock)
2. Fast measuring speed and simple operation
3. Large-sized letters prevent eyestrain
4. Measurable Scope is 0.01g ~7,000g
5. The electric power is 220V conversion
Formula & Alternate
Color Book
1. It is exactly the same as mass production by computer.
2. It is convenient to use all vehicles.
3. Easy to adjust color
COLOR-Q (Topaz 5A)
For 5 Angle Spectral Measurement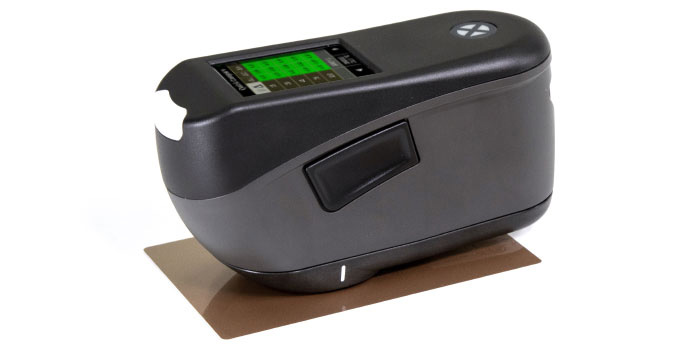 Topaz 5A : Actionable Color Measurement Tool for Effect Finishes
Built with quality control managers in mind, the Topaz 5A can identify color defects early in the manufacturing process and avoid unnecessary rework.

Featuring strategically placed optics at the tip, it is 60% faster, 50% lighter, and 40% more compact than any other five-angle device on the market. This allows operators to easily position Topaz 5A with one hand and capture more measurements per hour.
2.5 Seconds
Measurement Speed
Measure Color With Confidence
Looking for added repeatability? The Topaz 5A can capture a measurement in less than 2.5 seconds and collect multiple data points for automated jobs.

The compact and lightweight design minimizes operator fatigue and enables easy-one handed operation.

Indicator lights ensure correct positioning, and an automatic optics shutter keeps dust out of the device.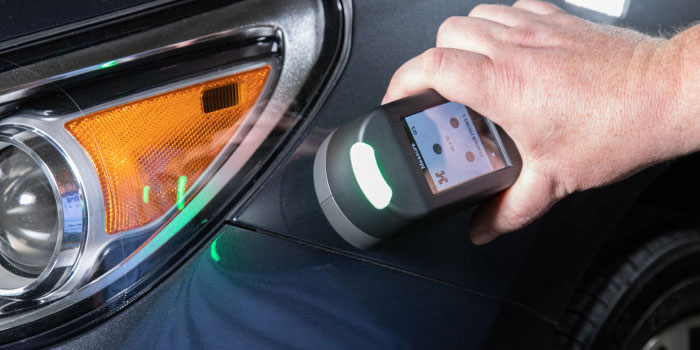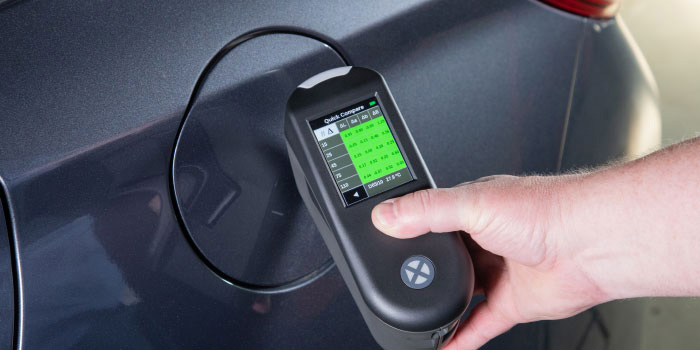 Analyze Data with Ease
The Topaz 5A offers an intuitive touch screen, red and green pass/fail lights for easy tolerancing, and fast data output with one-click reporting. With first-of-its-kind temperature preview, the Topaz 5A can determine whether sample temperature is affecting color data so you can make informed decisions.

To charge and connect with a PC, simply set the Topaz 5A into the convenient docking station.
COLOR-Q System Composition
Five COLOR difference meter (Topaz 5A)
Computer (Minimum Specifications)
(Window7, 64bit, CPU Core i5, RAM 4GB)
Internet
(Real-time color database interlock)
Apply Color System
(HIQ, Bodyian, Water-Q System)
Electronic Scale
(0.01g readability)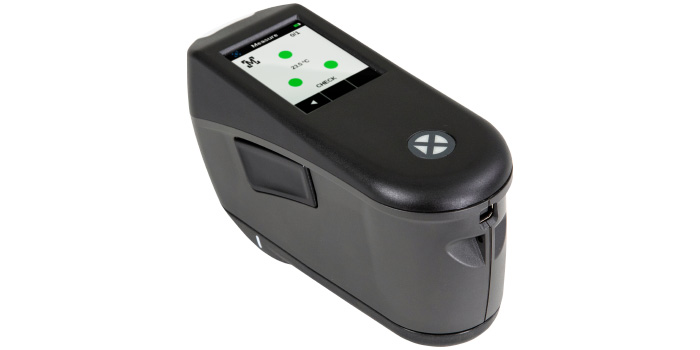 COLOR-Q Manual
Download the color-Q program from the homepage and install it

Color-Q Manual

Select the Topaz 5A and measure the color or Find colors stored in Topaz 5A

3

Search for similal colors

Select a color from the task list and search for similar colors

4

Automatic correction of formulas

After selecting the desired color from the list of found formulas, click the modify button to modify the formulation

5

Check coloring and sample paint

Quantify the modified formulation and check the color

6

2nd correction for different color

If you have a target color and a dichroism, click the Measure and fix colors once again button to modify the composition

After checking the color, paint the actual car